Introducing the 2018 Jackson Cuda 12
$99 Shipping most of the USA!
Please Note: All 2018 Jackson Kayaks come from the factory "rudder ready" which means the tubing is installed by Jackson inside the kayak. Delaware Paddlesports can install the footpegs, wiring and string required to make your rudder operational ($50 fee). If we install the rudder for you we do everything except actually mount the rudder as it would get damaged in shipping. Mounting the rudder is very easy to attach when the kayak arrives to you.
2018 Cuda 12 Product Features
1 - Ergo Seat
Jackson's new Ergo Seat with all new 3D breathable mesh fabric, improved lumbar support, strengthened supports for hi-low seating, additional storage spots and compatible with the newer track/hi-low systems being built at JK.
2 - Hull Design
The Cuda 12 was designed to be the kayak that fits between the maneuverability of the Coosa and the speed of the Cuda 14. The Cuda 12 has a great secondary stability that makes the kayak extremely stable to stand and fish from.
3 - Hinging central hatch cover
The Cuda's center hatch is now hinged for easier use and comes with YakAttck gear tracks, and day hatch for easy internal access.
4 - Center Hatch
The Center Hatch allows you to access the hull of your kayak. This is a great place to store rods for a gnarly surf launch, or all your gear when traveling. It is easily accessible on the water. You can also add an tub insert that allows you to keep plenty of on the water accessories close by. The hatch cover has small indentions that keep items like hooks and weights from falling on the floor of you kayak, and eventually down a scupper. The hatch cover is also a great place to mount accessories like a GPS or a depth finder.
5 - Gear Tracks
Located on both sides of the center hatch, the gear tracks are built in to the kayak in easily accessible locations for adding accessories and RAM Mounts.
6 - Ram Rod Holders
Each Cuda 12 includes two flush mount rod holders.
7 - 32 oz Nalgene / Central Beverage Holder
Each kayak includes a Nalgene 32 ounce wide mouth water bottle.Made in the USA, our custom Nalgene bottles are decked out with Jackson Kayak logos.
8 - Rod Tip Protector
The Rod Tip Protector is a great way to store your rods when they are not in use or if you are paddling through tight areas like mangrove tunnels. By concealing the rod tips, they won't get snagged on brush or weeds, and helps prevent you from accidentally breaking your rod on the water. You're on your own with ceiling fans and car doors.
9 - Heavy duty seat attachment buckle
Durable and tough attachment that will outlast all the use and abuse you can manage, season after season. Keeps your seat locked in position and makes you feel connected to the kayak.
10 - Hull Storage
Open hull space that allows for safe storage of fishing rods, camping gear, PFD's, dry bags, etc.. A great way to keep your gear safe when traveling and generous volume allows you to pack enough gear for expedition paddling.
11 - Ram and Gopro Inserts
There are molded-in inserts located throughout our fishing boats for GoPro and Ram mounts. They have have been placed in locations that are convenient for use and optimal for GoPro footage or fishing accessories via ram mounts. The Cuda 12 comes with one GoPro mount, one Ram 2007 rod holder, and 2 Ram rocket launcher rod holders.
12 - Rear Tackle and Rod Holders
The Cuda has a very large rear tankwell for plenty of storage. Along the sides of the tankwell, there are 2 tackle stages that hold 3700 size boxes horizontally. Also, behind the seat the Cuda comes with two Ram rocket launcher rod holders that keep your reels clear of any saltwater that may splash up when paddling.
13 - Rod Stagers
Stagers are great locations to place items that you need handy but aren't using at the moment. They also keep the rods from sliding around the kayak.
14 - Paddle holders/stagers
The perfect compliment to the rod stagers. These allow easy stowing of your paddle when you are ready to make that perfect cast.
15 - Rudder Ready
Comes pre-rigged for easy rudder installation, if it suits your paddling style.
16 - Tankwell
Large rear tankwell with bungee to put and secure gear, coolers or tackle
17 - Stand-assist strap
A handy strap that is within reach of the seat and that makes standing up and sitting down safe & easy!
18 - Removable skid plate
We protect the biggest wear area on the kayak with the skid plate. Your keel will last season after season with this smart feature.
19 - Adjustable foot pegs
Making the boat functional for paddlers of all sizes. The foot pegs adjust easily.
20 - Two-Layer Standing Pad
NEW Two-Layered Standing pad. Great for sound dampening and super comfortable for standing and fishing.
Cuda 12 Specs
NOTE: scupper plugs can be purchased as an accessory and do not come standard with our fishing boats.
2018 Jackson Fishing Colors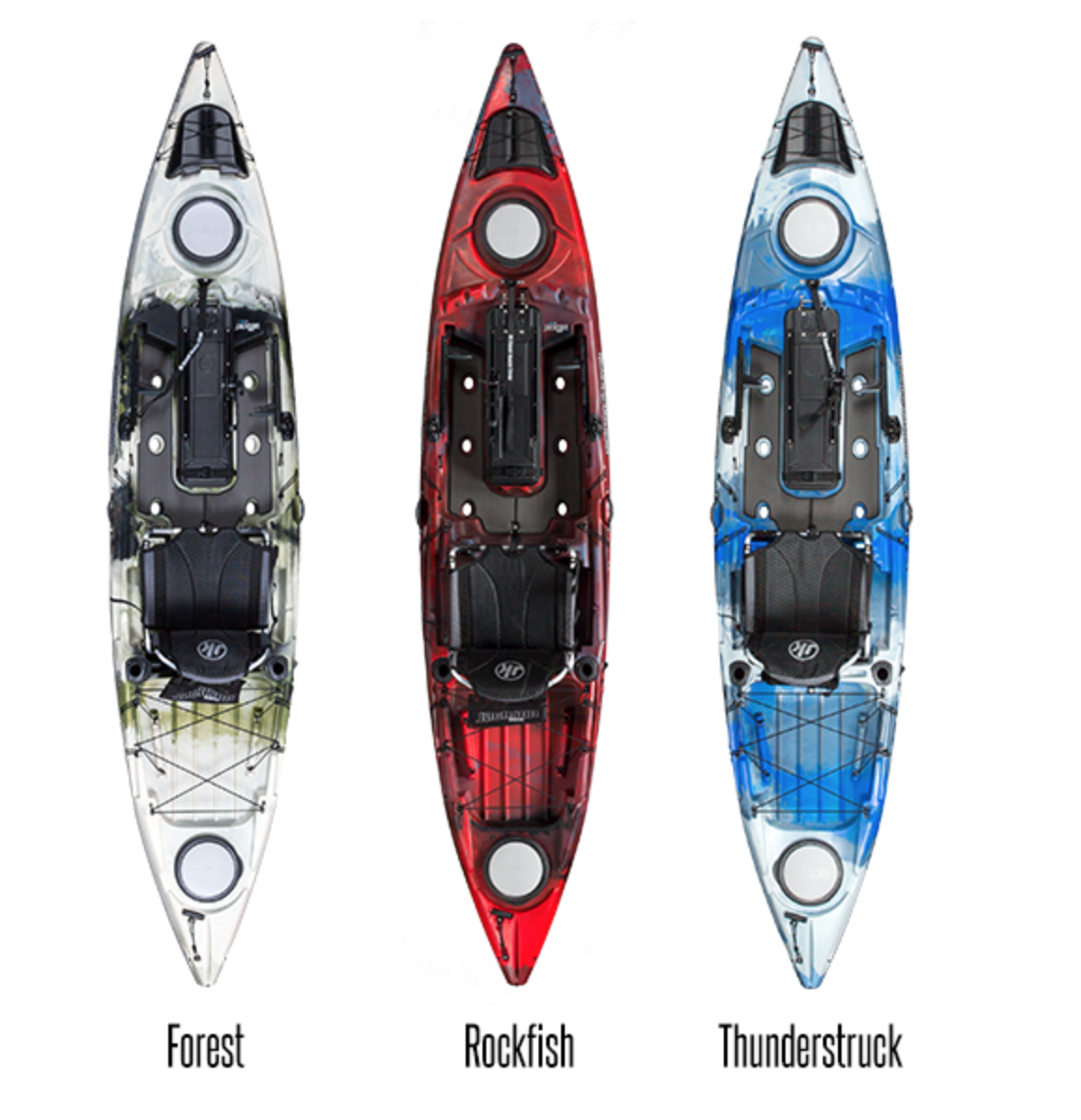 OTHER DESIGN AND COLOR OPTIONS:
CUSTOM DESIGNS: Minimum $200. Please contact DPS for pricing.
CUSTOM COLORS: Any custom, solid or multicolor, adds to the price of the boat.
Example:
Up to 4 colors – Red/White/Blue/Orange is $150
More than 4 Colors – White/Black/Blue/Black/White is $200
Note:
* Black, white and brown swirls may be added to any 2 colors.
Note: Shipping price is only good for the contiguous United States. Non U.S.A please call for shipping quote.
Shipping Note: We currently use Old Dominion Freight http://www.odfl.com/index.shtml for shipping. We usually get your kayak shipped out within 48 hours if we have in stock. We will forward you tracking after your kayak ships.